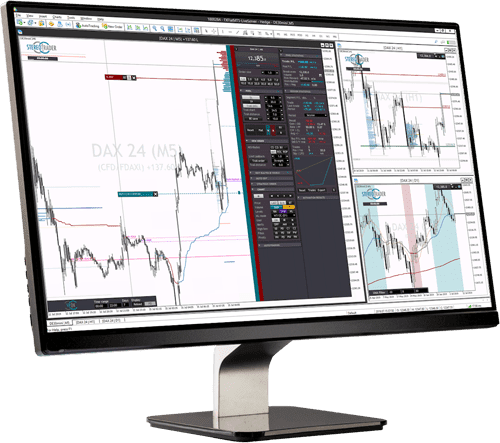 Trade professional.
StereoTrader is a scalable Interface for MetaTrader 4/5. Designed for professional Trading of CFDs, Futures and the Forex-Markets.
The platform supports manual Trading with unique Features as well as fully automated Processes.
Improved for Futures * New unique Order types * Enhanced Charting * Automated Cluster-Trading
Evaluate all functions for free with an authorized demo account.
Rent or buy a license for StereoTrader and/or professional add-ons.
Open a live account with our licensed brokers and use the platform for free.
The vision of StereoTrader is to unite some of the most successful and renowned traders, who vouch for their name for the uniqueness of the platform. StereoTrader stands for efficiency and professionalism, but as well for a growing community of private traders and great partnerships.
All addons of our partners are integrated with the Installation Manager of the platform itself. No extra downloads are needed. For individual pricing plans please refer to the
BUY IT
section.
In general StereoTrader is compatible to any broker which offers MT4/MT5 and automated trading. Besides this, our licensed brokers offer a great support for StereoTrader, valuable education, extra functionalities and give you the ability to trade at fair costs and best executions.
StereoTrader comes with unique functions that you will miss in any other platform. Extremely fast and intelligent automation processes – which you won´t even recognize in many cases – support you to optimize your entries and exits. In other words:
StereoTrader will improve your results.
The videos are available on our Youtube channel. By clicking the play button, personal data is transferred to Youtube. Otherwise, no data is transferred. 
StereoTrader Q&A #1 –
"How to open positions" (EN)
StereoTrader Q&A #2 –
"Placing orders" (EN)
StereoTrader Q&A #3 –
"Symbol in a new chart" (EN)
StereoTrader Q&A #4 –
"Trade results & history" (EN)
StereoTrader Q&A #5 –
"New Order" panel (EN)
StereoTrader Q&A #6 – "Auto Exit" panel (EN)