Especially in live trading, fast decisions and precise execution go hand in hand. This is exactly what the Stereotrader offers me in daily proprietary trading and webinars during volatile market phases. Not only the opening of positions, but also the management of trades with splits or pyramid trading can be implemented very intuitively.
Complex risk calculations, isolated strategies and tailor-made indicators can also expand your facets in everyday trading and enable you to place strategic orders that can be adapted to any market situation.
With this, I was able to optimize my way of trading once again.
His add-ons euroPro and DowPro, which he uses in his almost daily live trading webinars, are of course adapted and optimized for this edition.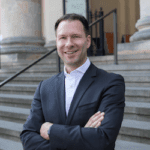 Andreas Bernstein has been an active part of the trading community on the Internet under the pseudonym "Bernecker1977" since 2001. For many years he was head of the daytrader section on Germany's largest discussion platform wallstreet-online and can refer to more than 100,000 contributions.
As a speaker he has been passing on his experience to people interested in trading since 2009 at various events such as the World of Trading, Invest or various stock exchange days. His proprietary trading of indices, stocks and forex is based on sentiment data and the classic chart technique.
With the Stereotrader he not only carries out live trading events at the US Federal Reserve meetings, but also uses this tool for his daily trading activities. Take a virtual look over his shoulder. The social media channels Facebook, Twitter, YouTube and Instagram are daily contact points for his trading ideas.